Enjoy working from home
A change or lack of rou­tine can be unset­tling and it can be dif­fi­cult to stay focused. The need to sep­a­rate home/​work life is real­ly impor­tant and com­mu­ni­ca­tion is key.
Set up a com­fort­able work­sta­tion away from dis­trac­tions and some­where sep­a­rate to your ​

'

relax­ation' area to stop them becom­ing blurred
Video calls and group chats are a must – make sure you check in on col­leagues. We've set up a dai­ly catch-up at

11

am (to avoid the

9

am wifi crash!) and a vir­tu­al

3

pm brew!
Go for a walk in the morn­ing or evening to make it feel like your usu­al commute
Have a lunch break away from your desk so you come back refreshed in the afternoon
Kev L said:
"

Work­ing from home with my part­ner means there has to be some bound­aries – we've split the desk space with tape and must not cross!"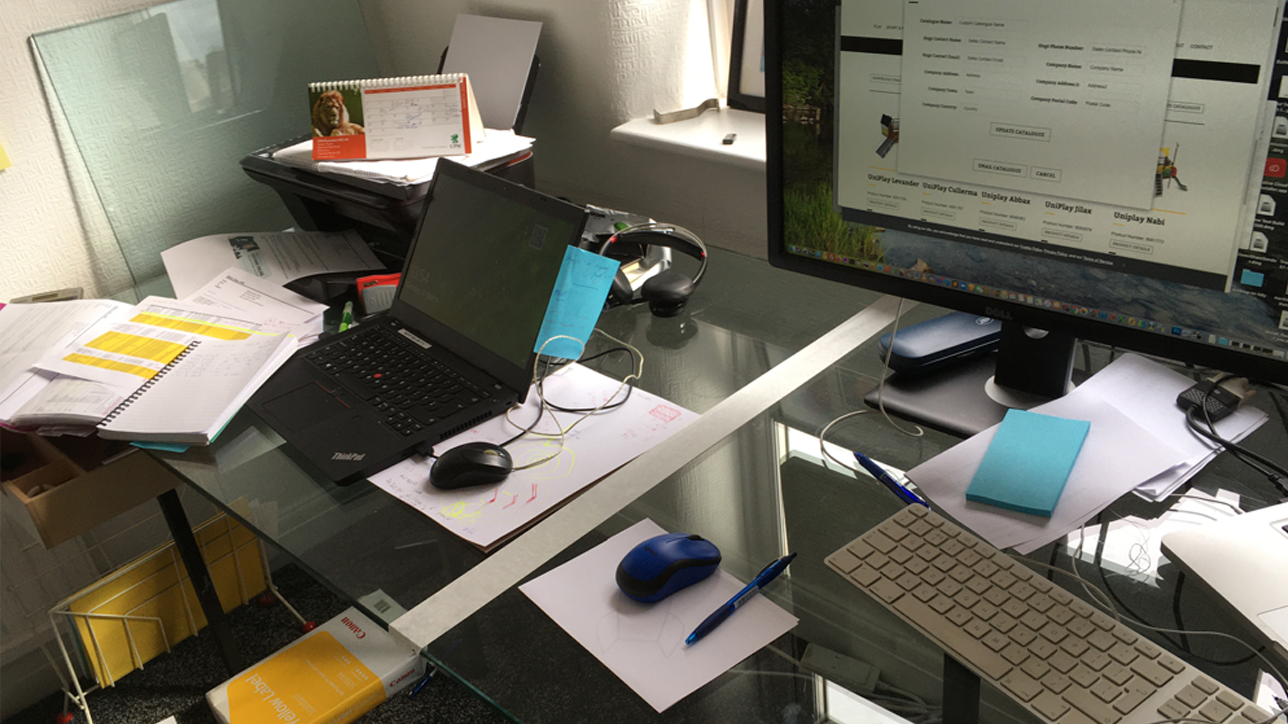 Have fun keeping fit
Lack of gym or fit­ness class­es and no com­mute to work means you need to find a new rou­tine to keep you feel­ing motivated…
Fol­low some YouTube fit­ness class­es either in your liv­ing room or your gar­den. Many don't need any equip­ment – just your­self! Joe Wicks has some great videos on his chan­nel https://​www​.youtube​.com/​r​e​s​u​l​t​s​?​s​e​a​r​c​h​_​q​u​e​r​y​=​j​o​e​+​wicks
Fill a mini-suit­case with books or use tins of beans/​bottles of water; what­ev­er you can find to use for weight exercises
Try to fit in a morn­ing, lunchtime or after work walk or run
We've start­ed a Foundry step chal­lenge (you know how much we love a step chal­lenge) where we're all aim­ing to do

5

,

000

steps a day! So, we're hav­ing to come up with lots of indoor activ­i­ty ideas to reach our goals – up and down stairs, pac­ing when on calls, cir­cuit train­ing in the gar­den – it all counts
Ian said:
"

Where pos­si­ble I've kept my rou­tine as nor­mal as I can and treat the day like I would in the office. The only dis­trac­tion is our lit­tle dog ​

'

Bon­nie'. I sim­ply can't resist tak­ing her out for a run every morn­ing – but it's a great way to start the day and gets those impor­tant steps in. It also com­bines my dai­ly exer­cise and walk­ing the dog – efficiency!"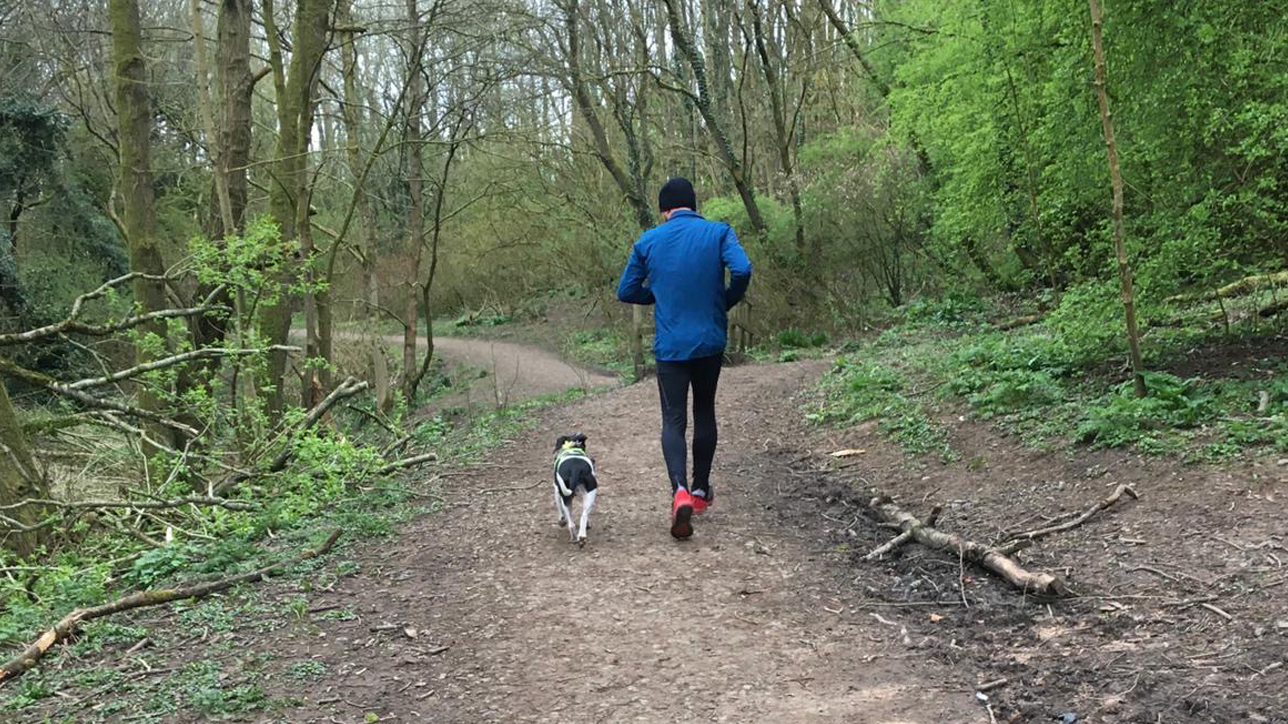 Mitals perfect recipe for working from home
1 kitchen setting
1 reti­na dis­play mac
1 pad
2 HB pencils
Lots of cre­ative spices
3 cups of tea, 4 hot waters, 1 spiced cur­ry dish, 2 fruits 5k run every oth­er day
3 extra hours of fam­i­ly life and wellbeing
1 hap­py wife (so far)
1 very hap­py 5‑month-old child
= 1 very hap­py creative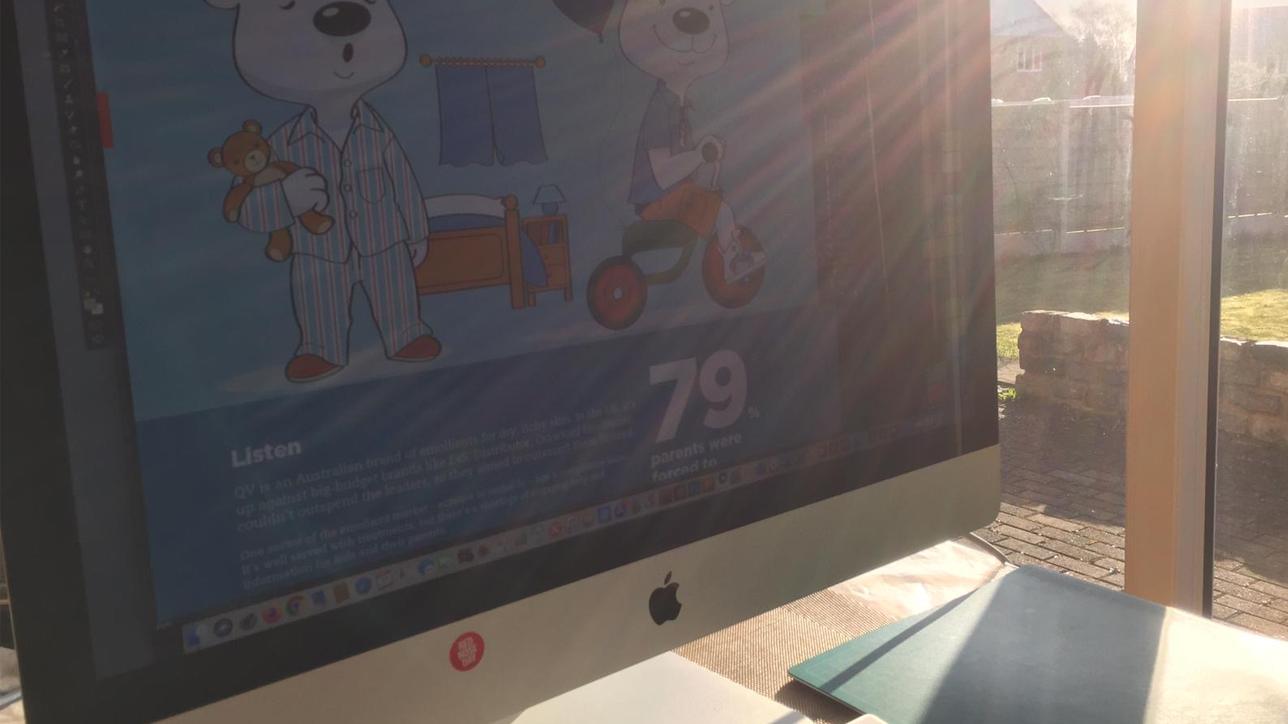 Eat healthy snacks and meals
Being at home, it can be easy to snack on things that might be in your fridge which wouldn't nec­es­sar­i­ly be in the office. Try to keep healthy in the week then you can look for­ward to indulging a lit­tle at the week­end as a well-earned treat and to make your Sat­ur­days and Sun­days feel a bit dif­fer­ent! Stock up on things like…
Car­rot sticks, pep­per, cucum­ber and dip
Toast­ed pit­ta and dip
Fresh fruit
Good selec­tion of hot drinks – nice coffee/​teas – take your mind off biscuits!
Anna said:
"

My best tip dur­ing lock-down is mak­ing sure you spend some time doing some­thing you love – To me that is cook­ing and bak­ing. Also – hav­ing my work-sta­tion next to the record player."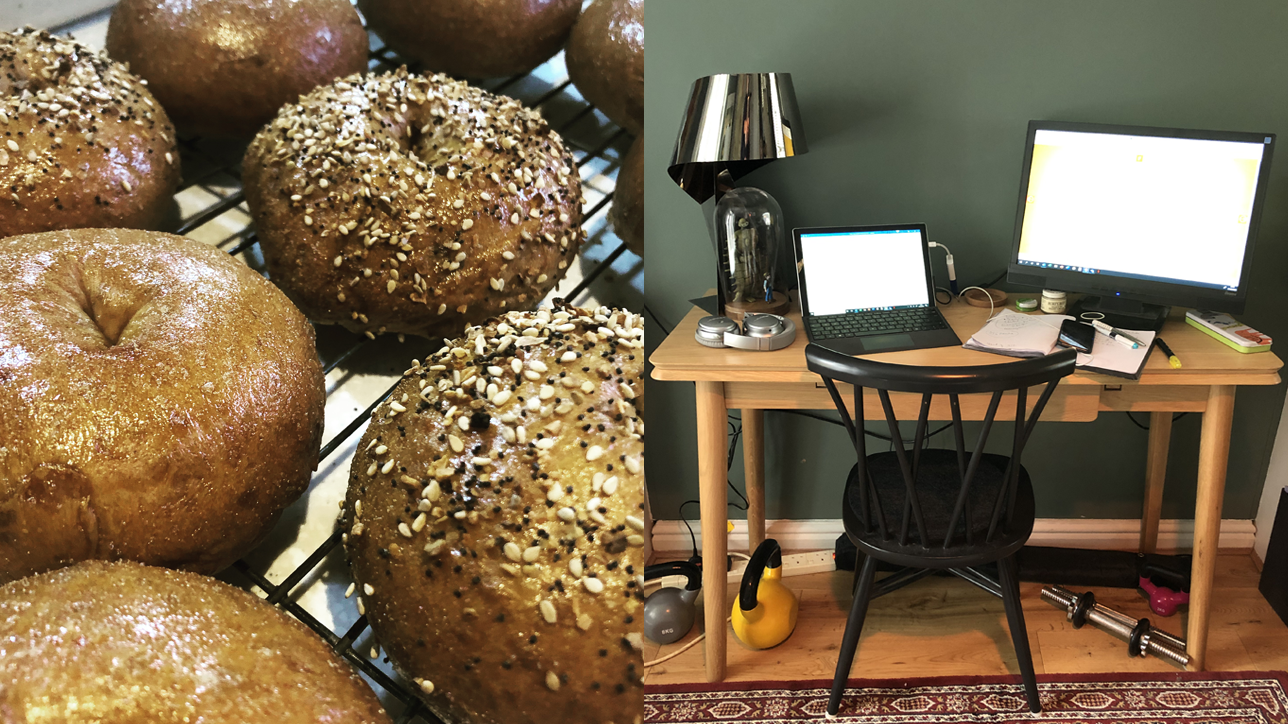 Vicks said:
"

I'm run­ning Mrs Green's home­school from my kitchen table and fit­ting work in and around it. We do Maths and Eng­lish in the morn­ing and then a ran­dom sub­ject in the after­noon. It was Sci­ence on Fri­day and we did this in the gar­den helped by our fur­ry assistant. 😂 "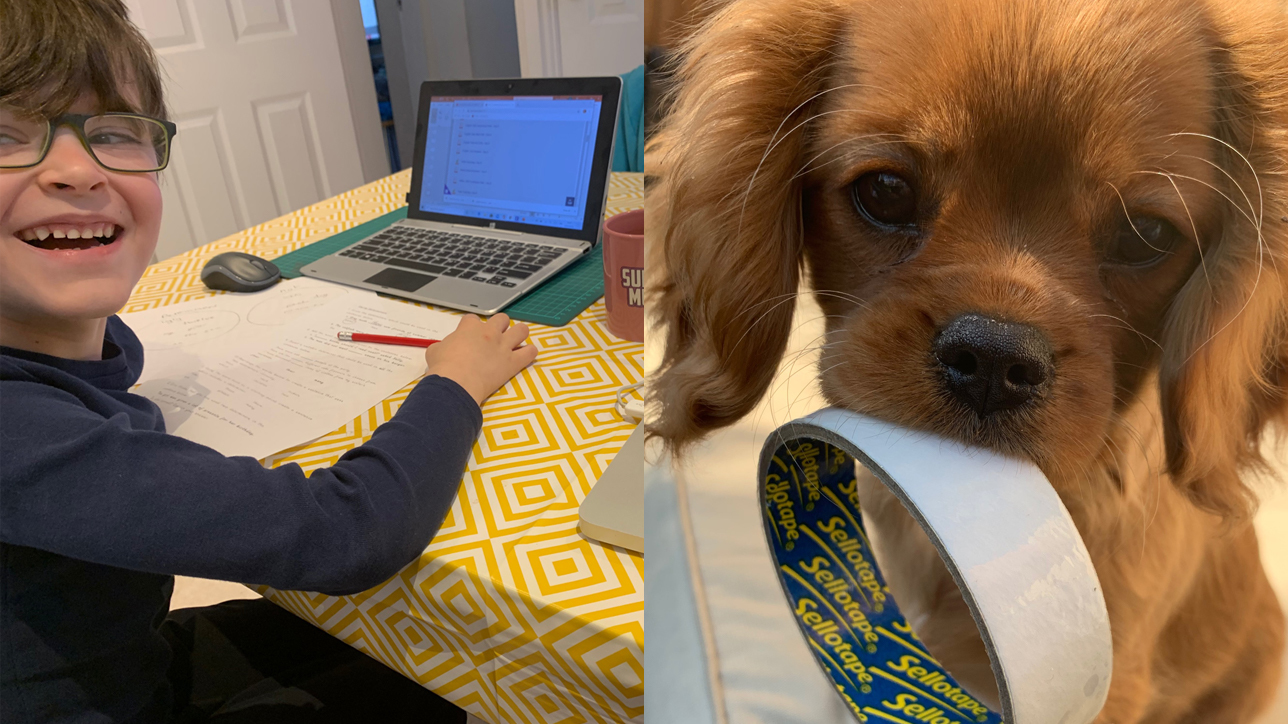 Tracey said:
"

In between work, I count­ed all the tiles on the kitchen floor and paced the house for

3

days – now I burn my ener­gy on the tread­mill while watch­ing The Crown, then at lunch it's meals on wheels time – got to keep my dad fed and healthy… and drunk 😃 "
Kirsty said:
"

Being at home with two lit­tle ones – I crave a tidy right now!"
Sarah said:
"

I'm try­ing to go a run or do a mini gar­den or liv­ing room work­out in a morn­ing to start the day! I've also turned the cor­ner of the spare room into an office, so I have a qui­et space away from dis­trac­tions – like the bis­cuit cupboard!"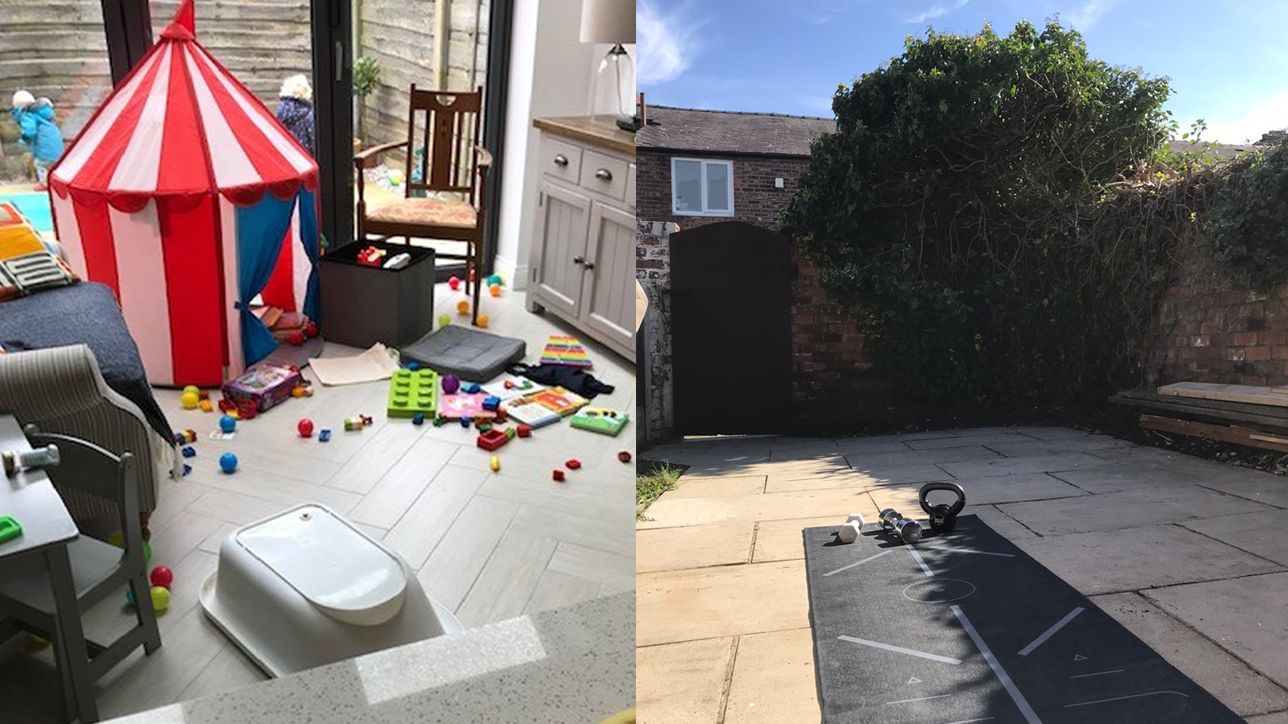 Stu said:
"

I'm using my com­mute time – typ­i­cal­ly

75

 – 

90

mins each way per day – for rolling, stretch­ing and strength­en­ing exer­cis­es to sup­ple­ment my run­ning. I'll often have the tel­ly on too so I can catch up on the news and weath­er. Plus, doing it inside means I've still got my dai­ly ​

'

out­door exer­cise token' to spend on a run or cycle!"
Kate said:
"

Stick­ing to a rou­tine has been key for me. Plan­ning my day the night before, allows me to do my job and look after a two-year-old."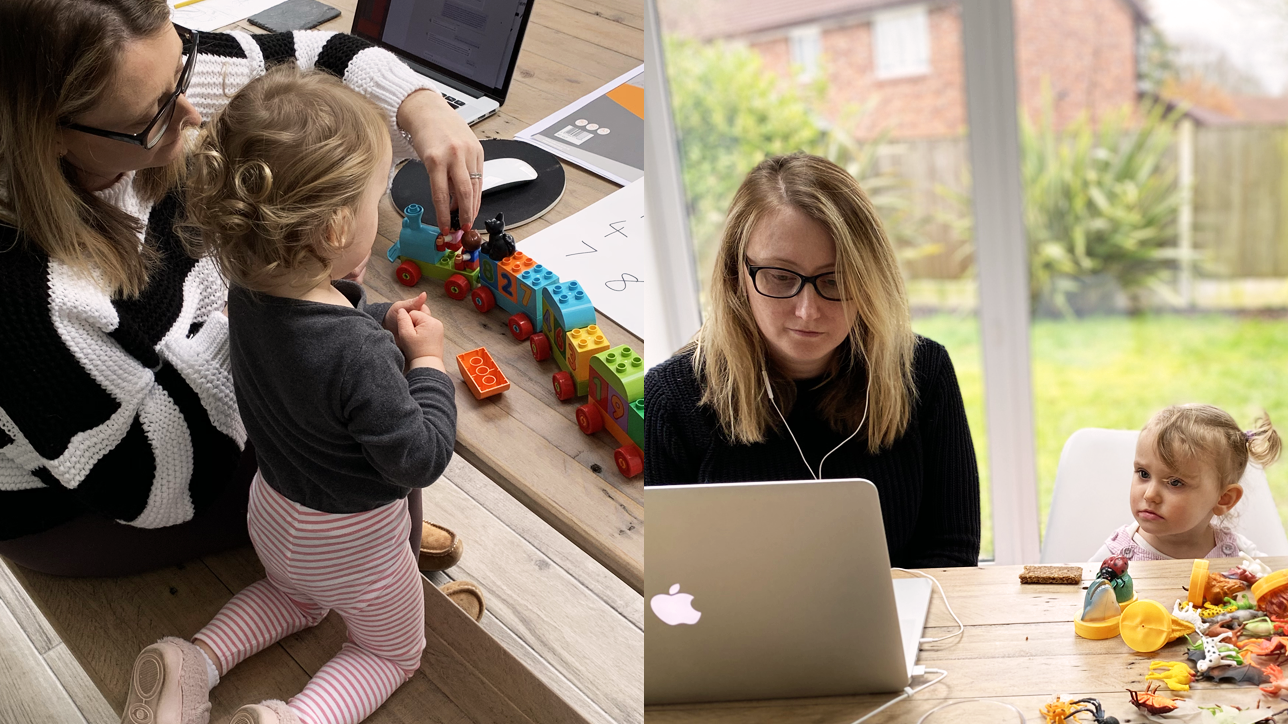 Elaine said:
"

I'm start­ing to under­stand now why dogs try to run out every time you open the front door. That's why I find get­ting some fresh air through­out day keeps me motivated."
Mark said:
"

Well it appears some things nev­er change, instead of debat­ing radio sta­tion choic­es with the team in the office I'm now doing it with my wife and teenage boys. But

6

music always wins! 😊 "
Kev O said:
"

I've been using my lunch hour to get out­side for fresh air and a long walk around the town!"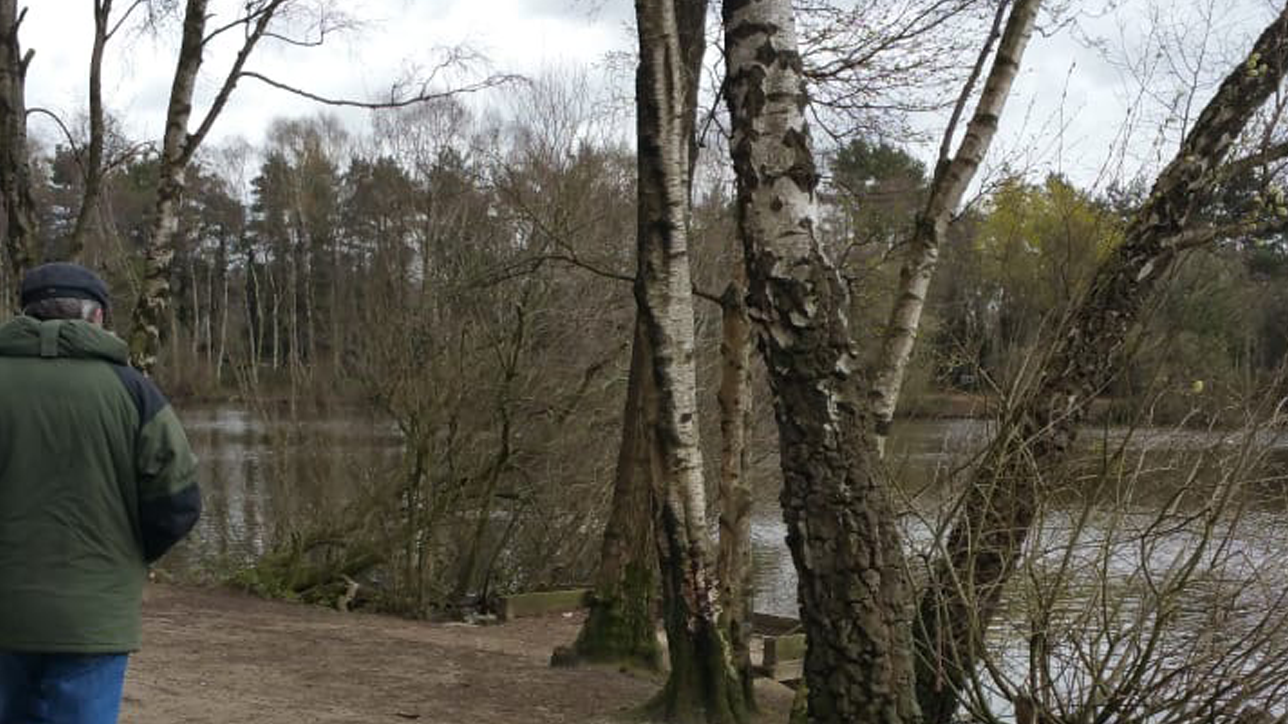 We hope some of these tips have helped you refo­cus. We'll be record­ing our steps in our homes, gar­dens and local areas as part of our dai­ly exer­cise allowance and a way to keep moti­vat­ed as we con­tin­ue to work from home. Feel free to join us or keep up-to-date with our progress by fol­low­ing us on Twit­ter or Insta­gram. Stay safe everyone!