Take Google. Do peo­ple want to work there because of the logo? No, they buy into the brand and the back sto­ry. Google have built a brand that peo­ple want to work for. It's more than bright colours and quirky type­faces. It's about embody­ing the spir­it of an organ­i­sa­tion in every touch­point of the business.
This is how we approach every brand­ing project. We like to get to the heart of what our clients stand for – their mis­sion, vision, val­ues and what dri­ves them – before we can even put pen to paper. So, when osto­my man­u­fac­tur­er, Salts Health­care, came to us want­i­ng a new logo, we were deter­mined to dig a bit deep­er and turned the project into a more in-depth brand­ing exercise.
We start­ed with the essence of their busi­ness – health and care – and worked close­ly with them to define their com­pa­ny val­ues and what we could do to help them live their brand, from the fac­to­ry floor to the boardroom.
Logo design
We sim­pli­fied the logo and cre­at­ed a fresh­er, more mod­ern look to reflect the future focus of the brand. Greens and blues were used to bal­ance their tech­ni­cal and med­ical exper­tise with their com­mit­ment to com­fort and skin-friendliness.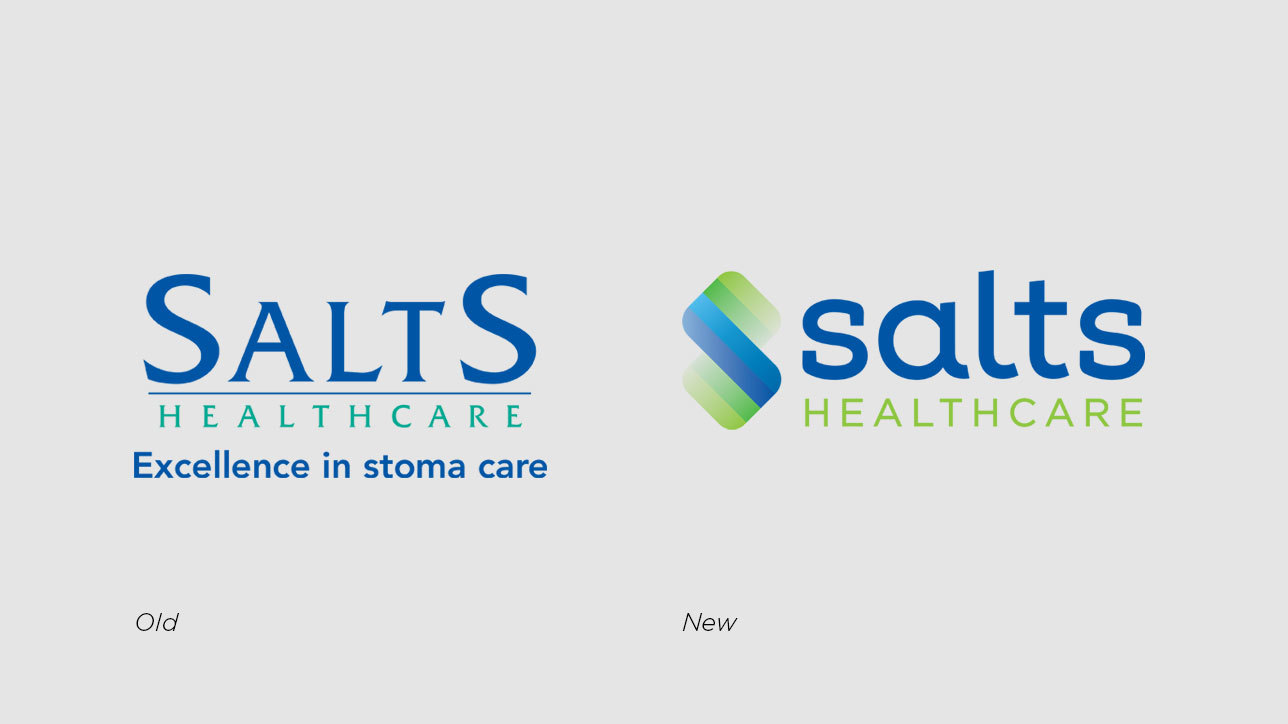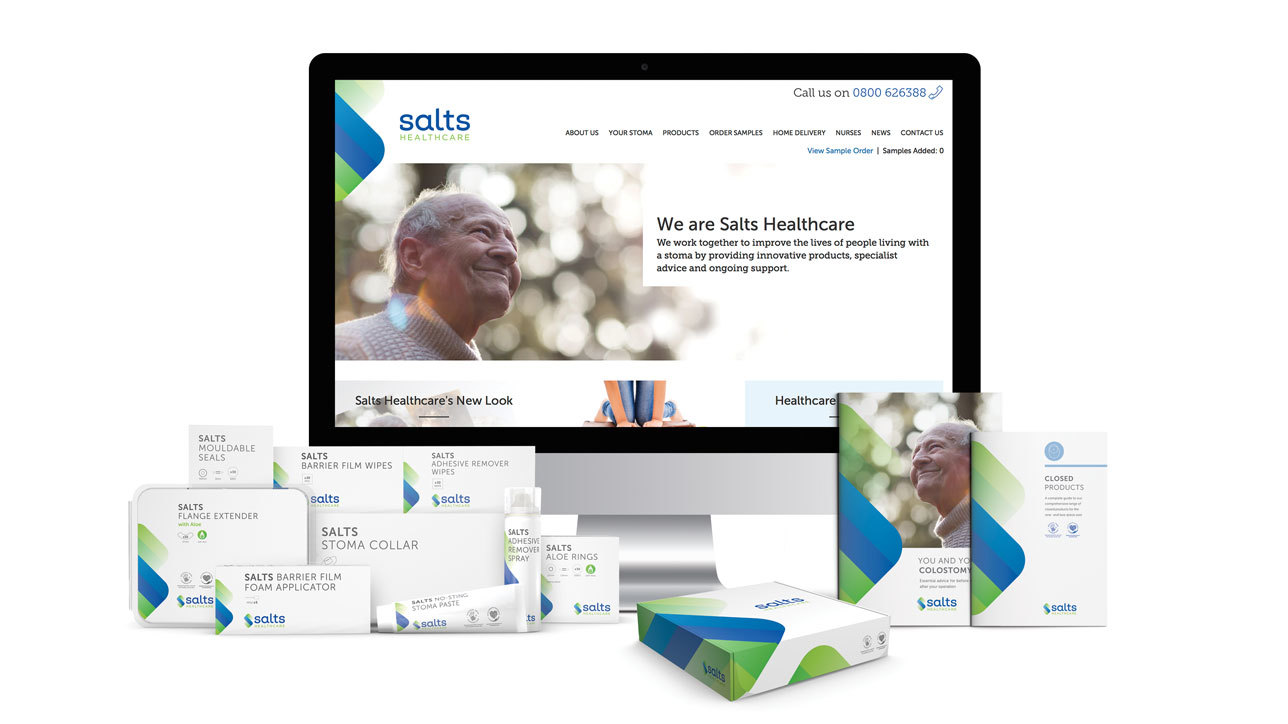 Packaging
We want­ed peo­ple to buy into Salts as a brand, rather than sim­ply their prod­ucts, so we helped them move from a house of brands to a brand­ed house. All prod­ucts are now pre­fixed with ​"Salts", fol­lowed by a sim­ple and accu­rate descrip­tion of the prod­uct e.g. Salts Stoma Col­lar instead of Der­ma­col. They all fea­ture the mod­ernised logo.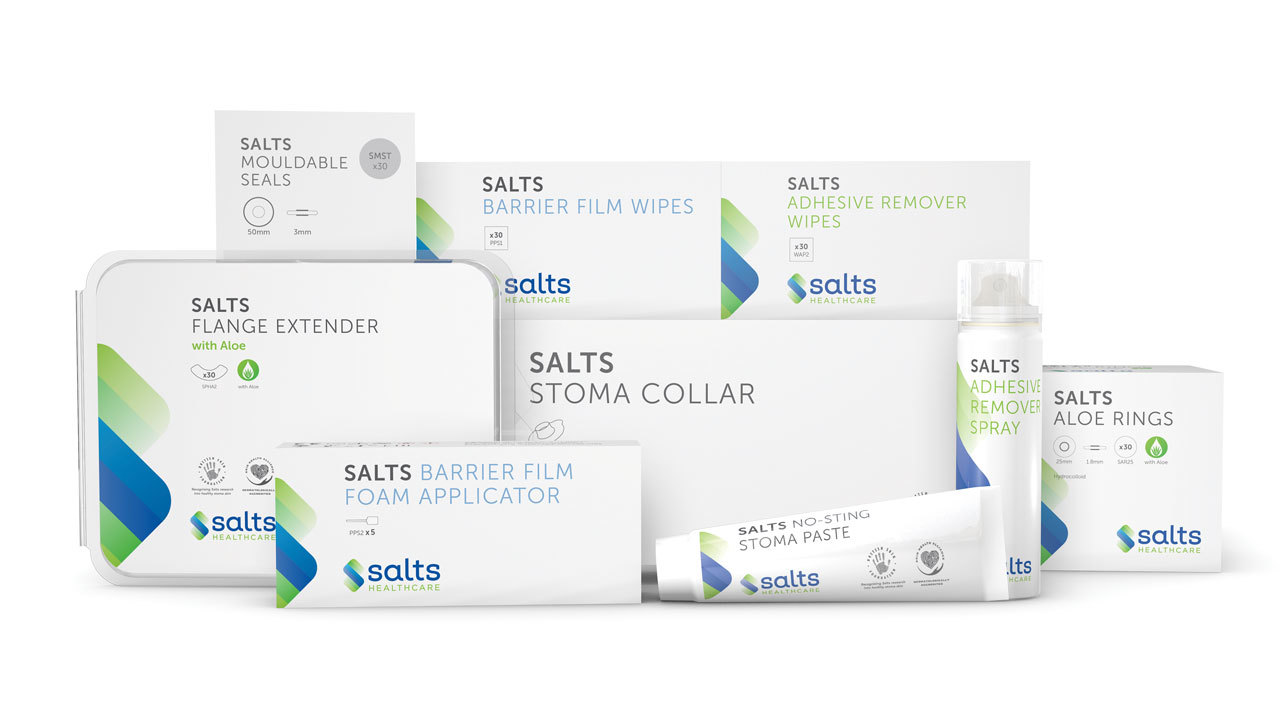 Literature
We cre­at­ed sim­ple tem­plates to ensure con­sis­ten­cy across all glob­al com­mu­ni­ca­tions and make it eas­i­er for Salts dis­trib­u­tors around the world to rep­re­sent the Salts brand coher­ent­ly. Every­one has access to an online asset library to make things easier.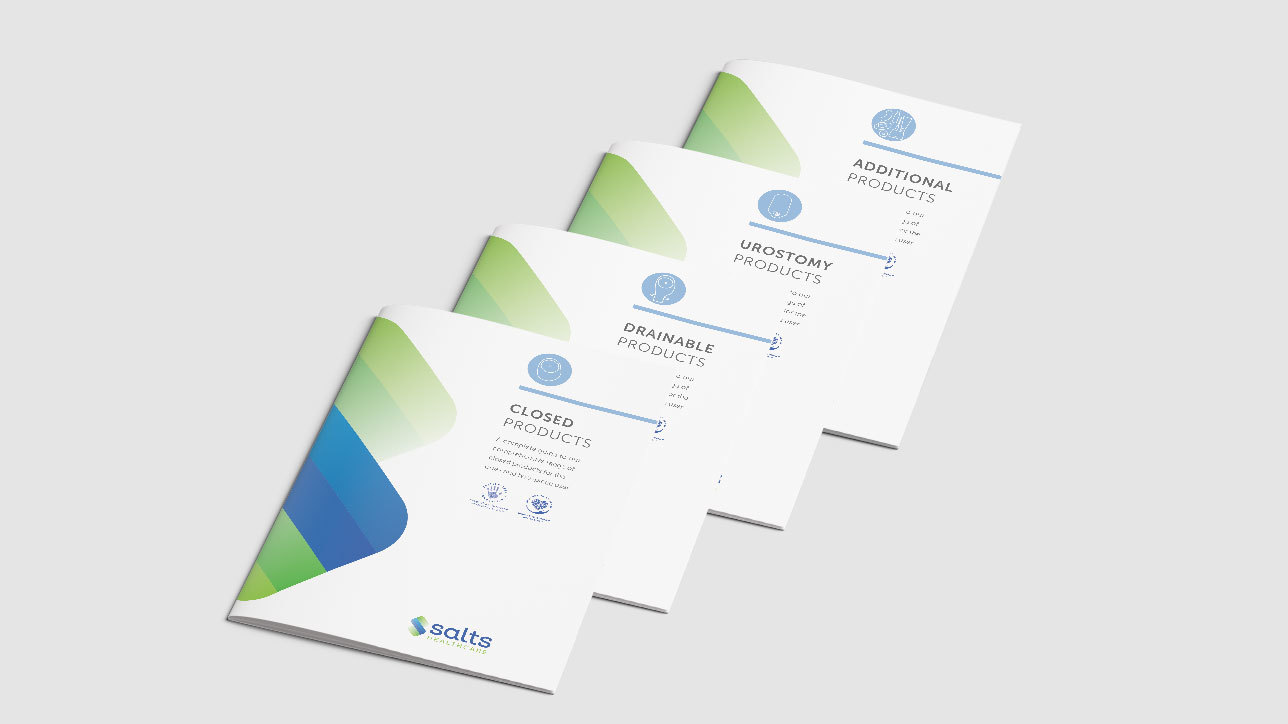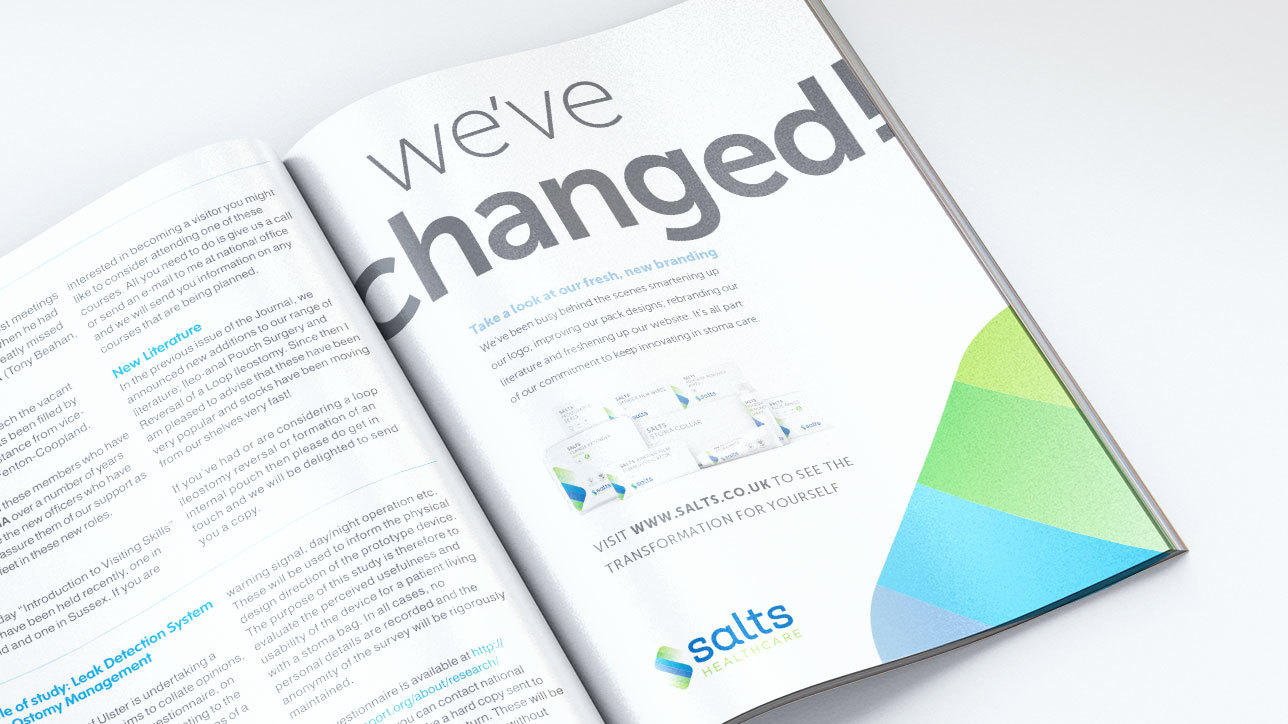 Website
The Salts web­site now has even more infor­ma­tion for ostomists and health­care pro­fes­sion­als. It fea­tures a new way to order sam­ples and reg­u­lar blog posts shar­ing the sto­ries of inspi­ra­tional patients.
Social and digital marketing
Salts Health­care now has a big­ger pres­ence on Twit­ter, Face­book and Insta­gram. Our copy­writ­ers help to cre­ate ideas for email tem­plates and gen­er­ate con­tent to com­ple­ment exist­ing mar­ket­ing activity.
Internal communications
We wrote and direct­ed a cor­po­rate video to help Salts Health­care com­mu­ni­cate the new brand, vision and val­ues to all mem­bers of staff, from pack­ers to deliv­ery dri­vers, and helped them to coor­di­nate a mem­o­rable launch event. We also cre­at­ed a vision and val­ues hand­book, that was giv­en to all employ­ees, and designed posters for dis­play around the factory.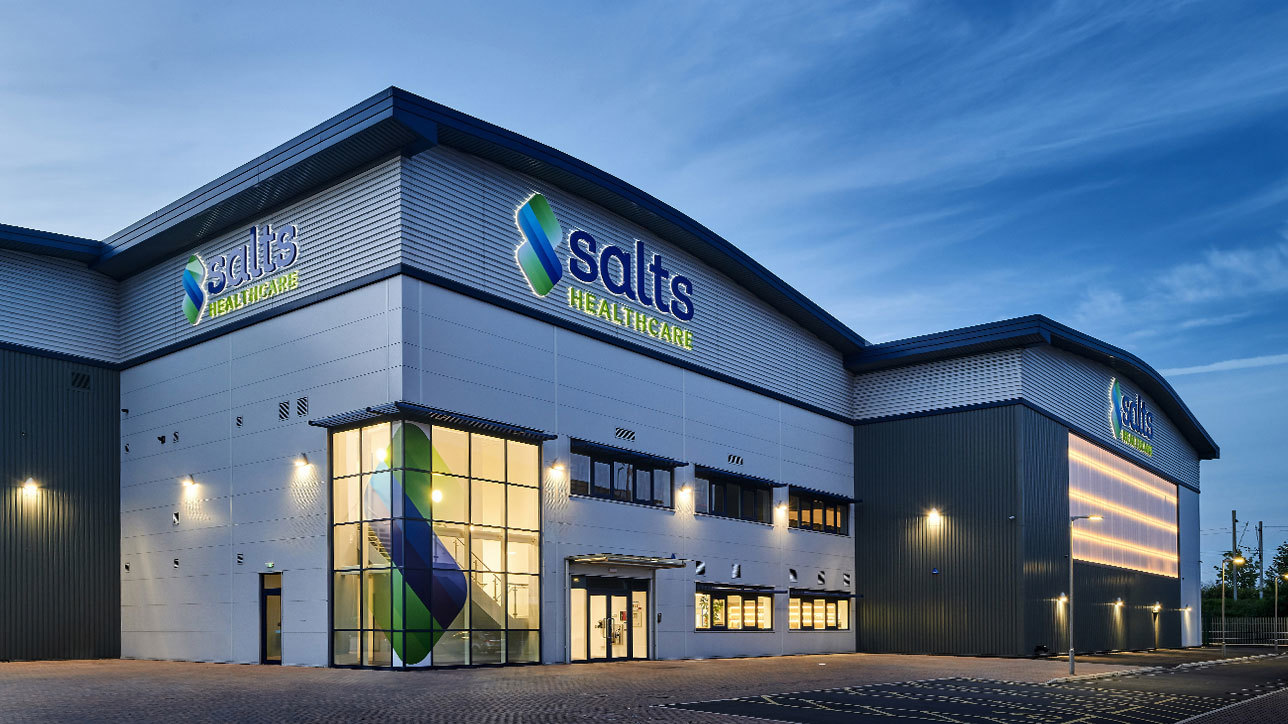 Summary
You can read the full case study and many more over on our work pages. Our clients cre­ate the cul­ture and work­place they want for their staff. It's our job to help them tell that sto­ry con­sis­tent­ly and share their vision with the world. Do you have a brand promise? Is it being shared as clear­ly as you'd like? Will it help you attract the best peo­ple? If you need any help build­ing your brand, we'd love to help.
P.S. Shout out to Michael John­son for the ​'Brand­ing in five and a half steps' book, fea­tured in this post. One of our favourite pur­chas­es for inspiration.